Navigating PlanMan
Learning a new system can sometimes be daunting. PlanMan has been designed to be simple yet effective to use, giving you the ability to focus on the task at hand. Here's a quick guide to where everything is in your account.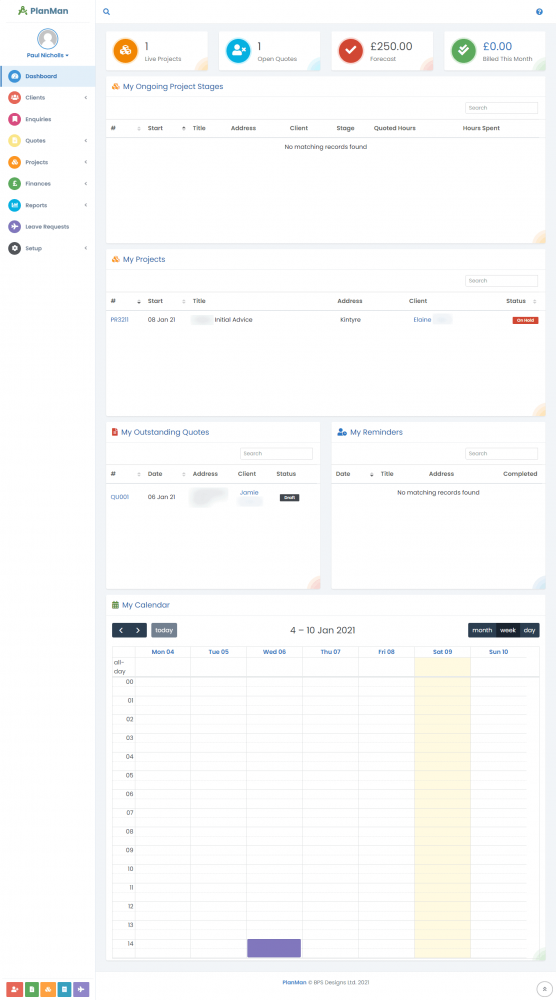 The project dashboard is the first page you see after logging in to PlanMan. At the top of the page is the global search bar. This appears on every page and allows you to search all of your data.

On the left is the navigation section. The navigation section is on every page and allows you to easily:

View clients


View enquiries


View quotes


View projects


View Finances such as invoices and purchase invoices


Run reports


See staff leave requests


Setup the system

Top Statistics

Live projects - advises the total number of live projects that comprise of project stages that are assigned to you


Open Quotes - advises the number of Quotes that have a Draft status and are awaiting action by Project Staff (this could mean input is required by architects or planners)


Forecast – this is the total value of the project stages assigned to you that have been accepted by clients, but are yet to be invoiced


Billed This Month – total amount billed this month (including draft invoices) based on stage prices and excluding any VAT. If you click this total, this will list the Projects that have Stages that have been set to Completed but are yet to have an invoice created, serving as a reminder to the Project Stage Owner.

My Ongoing Project Stages

Lists all project stages that have been set to ongoing by you or other staff. This is also the list to use to add your time monitoring against active project stages.

My Projects

Lists all projects that you have stages assigned to, including those Not Started, Ongoing or Completed.

My Outstanding Quotes

Lists the draft quotes that contain project stages allocated to you, which may require attention, as well as those that have been issued and are awaiting a response by the Client. Refer to the Quotes section for more details.

My Reminders

Lists all uncompleted tasks relating to Dates that have been set within a Project Stage that is owned by you.

My Calendar

This displays Dates linked to your Project Stages, as well as meetings and leave (populated upon leave requests being lodged/accepted). To add a date that is not specific to a project, click the start day of the event and set the details. For Repeat events remember to change the End Date.

Shortcuts

At the bottom left of every page, there are shortcuts allowing you to quickly go to the:

Add client page


Add quote page


Add project page


Add expense popup form


Add leave request popup form